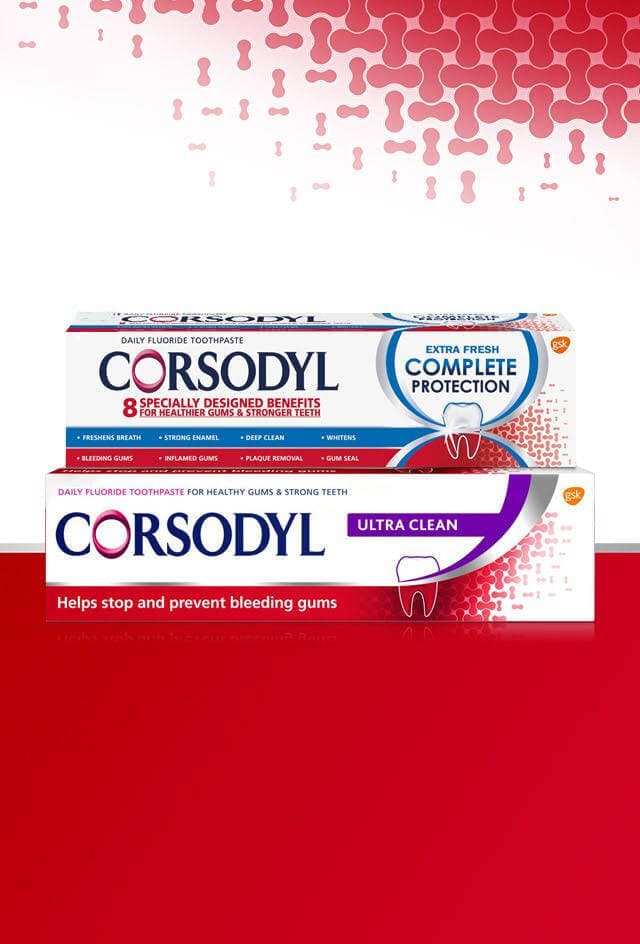 Daily Toothpaste
See the range below
HELP PROTECT YOUR GUMS WITH CORSODYL

Healthy gums don't bleed, so if you see any blood when you brush or floss your teeth, this can be a sign of gum disease. If left untreated the problem could get worse, leading to bad breath, red and swollen gums, receding gums and eventually even tooth loss.

That's why it's important to take action to treat bleeding gums.
One of the main causes of bleeding gums is the build up of plaque bacteria. If this isn't removed it can irritate gums making them bleed.
Corsodyl Toothpaste is a daily toothpaste that is clinically proven to help stop and prevent bleeding gums. Its formula is different from a regular toothpaste, as it uses refined particles of sodium bicarbonate to break apart the layer of plaque bacteria on your teeth to make it easier to remove, even in hard to reach areas.
By physically removing the build up of plaque bacteria along the gumline, Corsodyl Toothpaste is 4x more effective* than a regular toothpaste at removing the main cause of bleeding gums. When used twice daily it is clinically proven to help stop and prevent bleeding gums.

*This does not apply to Corsodyl Whitening versus a regular toothpaste. Contact mystory.ie@haleon.com for verification.
CORSODYL COMPLETE PROTECTION FOR HEALTHY GUMS AND STRONG TEETH
Taking good care of your gums is vital as healthy gums provide the foundation for strong teeth. You also need to keep teeth clean to help preserve their natural whiteness. The best way to help keep your teeth and gums healthy is brushing for two minutes, twice a day with a toothpaste that helps to protect your gums and teeth.

Corsodyl Complete Protection is a daily toothpaste with 8 specially designed benefits for healthy gums and strong teeth.
Corsodyl Complete Protection toothpaste is available in two varieties including Extra Fresh and Whitening.
CORSODYL DAILY TOOTHPASTE HELPS STOP AND PREVENT BLEEDING GUMS
If you spit blood when you brush or floss, it can be a sign you have gum problems. Corsodyl Daily toothpaste is a specialist toothpaste specifically designed to help keep gums healthy and help put a stop to bleeding gums.

Corsodyl Toothpaste is available in four variants including Original, Ultra Clean, Whitening and Extra Fresh, so you can choose the one that's perfect for you.**
Complete your oral care routine with the Corsodyl Toothbrush and Corsodyl Daily Mouthwash.
**May vary based on local market conditions
Instructions for use
Brush twice a day and not more than three times, minimise swallowing and spit out. If irritation occurs discontinue use. Not suitable for children under 12 years. Keep out of reach of children.
WHERE TO BUY CORSODYL
Our toothpastes, mouthwashes and toothbrushes are designed to help keep your gums healthy and your teeth strong. Find out where to buy Corsodyl below.
By clicking the link(s) below, you will be taken to an external website that is independently operated and not managed by Haleon. Haleon assumes no responsibility for the content on the website. If you do not wish to leave this website, do not click on the links below.