ABOUT CORSODYL 0.2% w/v MOUTHWASH
Gingivitis is a serious gum problem and should not be ignored. Corsodyl Freshmint 0.2% w/v Mouthwash, Corsodyl Mint 0.2% w/v Mouthwash, Corsodyl Aniseed 0.2% w/v Mouthwash are an intensive treatment that's clinically proven to help treat the first stage of gum disease, gingivitis. As gingivitis is a serious condition that should not be ignored it's important to act fast to treat the symptoms of gingivitis, like bleeding, red or swollen gums. This can help stop it developing into the irreversible second stage of gum disease, periodontitis, which can, eventually, cause tooth loss.
If you have persistent, worsening or serious gum problems then you may require advanced treatment like Corsodyl 0.2% w/v Mouthwash. It is designed to be used as a short-term solution alongside a good daily oral care routine. Your dentist may also recommend using it to keep your mouth clean and help gums heal after dental surgery.
Corsodyl 0.2% w/v Mouthwash is available in three varieties:
Mint

- no longer available
Freshmint


Aniseed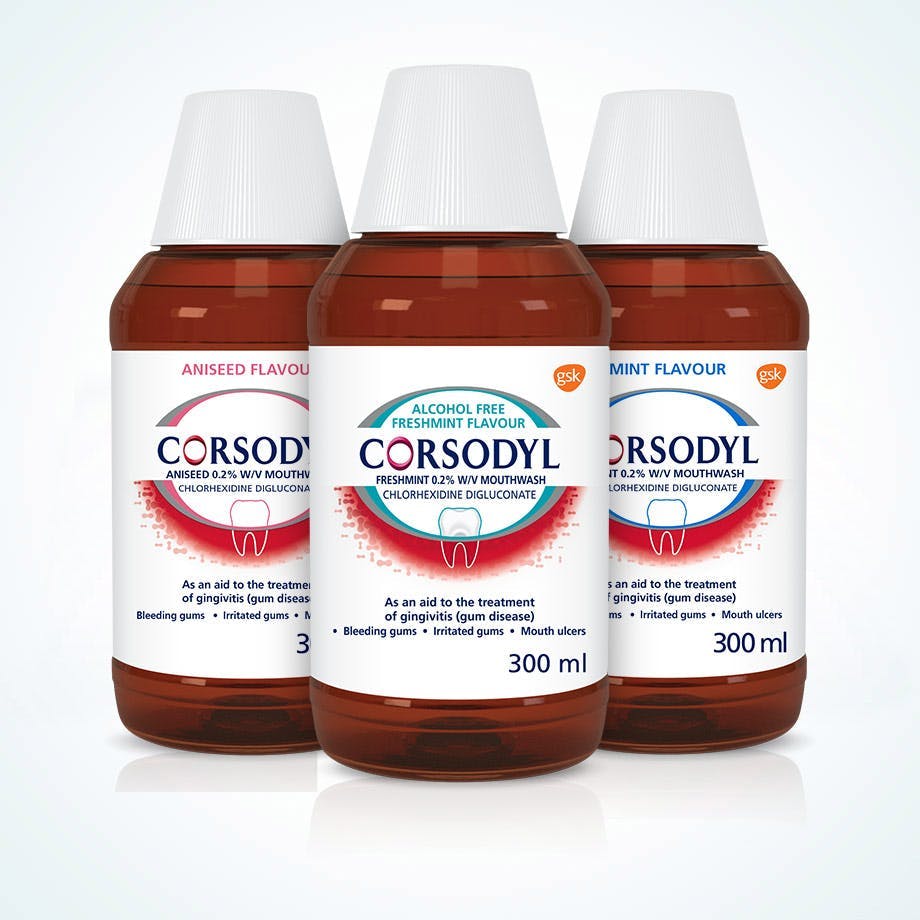 HOW DOES CORSODYL 0.2% w/v MOUTHWASH WORK?
Corsodyl 0.2% w/v Mouthwash contains 0.2% of the active ingredient chlorhexidine digluconate. This works to kill the plaque bacteria which can irritate the gums and cause gum disease.

The active ingredient, chlorhexidine digluconate acts rapidly, to kill the bacteria that causes plaque within 30 seconds. It also creates a protective antibacterial layer over your gums and teeth, which continues to repel bacteria for up to 12 hours after use, helping to keep your mouth clean and supporting the healing of your gums.
HOW TO USE CORSODYL 0.2% w/v MOUTHWASH
The first thing to do if you think you may have a gum problem is talk to your dentist as they will be able to diagnose the problem and recommend the most appropriate action. Corsodyl 0.2% w/v Mouthwash is an effective short term treatment for gum disease. Use according to the directions on the label/leaflet.
Corsodyl 0.2% w/v mouthwash can be used as an aid to maintain mouth hygiene, manage recurring mouth ulcers, denture sore mouth, oral thrush, promote gum healing after surgery, treat and prevent gum disease known as gingivitis.
How to use:
Fill the cap to the 10ml line.
Twice daily, thoroughly rinse the mouth with 10ml Corsodyl Mouthwash for about one minute and spit out.
A course of about one month (600ml) is recommended for the treatment of gingivitis.
When treating denture sore mouth, dentures should also be cleansed and soaked in solution for 15 minutes twice daily.